Winner! Food and Drink Destination, Sussex Business Awards #SBA18
Published
In a glittering event held on Thursday 29 November at The Grand, Brighton, Jeremy's scooped Winner of the Sussex Food and Drink Destination of the Year 2018.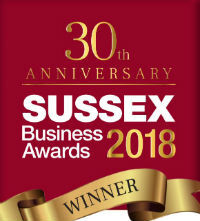 The event was organised and hosted by Sussex Business Awards and the room was packed with the glitteratri of Sussex - innovators, businesses, start-ups and the hospitality industry. Jeremy's was nominated as a finalist, but had to wait until the night to find out the final result.
Needless to say Jeremy and his team are delighted to have been given this award, and a big thanks goes out to the restaurant's dedicated team, and of course all our loyal customers - we are feeling the love!